Not all landscaping teams area the same and as many of you know around the Wilton area that some landscaping teams just don't have the team to complete the job adequately.  If you have every been stuck in a position where you just want to hire a well-trusted team that can come out to your house and complete the job that they say they will act in a timely manner, then you need to look no further than Dawson Landscape Team of Alabama.  We have been in business for over 3years in Birmingham and have years of experience working for these big box companies. One thing that we have come to find out is that Wilton needs more down home people that understand the area.  We not only work here but this is our community as well, and we want it to look just as beautiful as out yards as well.
Dawson Landscape specializes in many different aspects of Landscape Installation including the following:
Irrigation
Lawn Drainage
Landscape Installation
Construction of Stone Walls
Fertilization and Weed Control
What make up a Landscaping Team:
One of the things that you want to look for in a trusted company is to make sure that they are licensed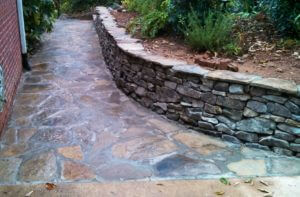 and bonded.  As a homeowner, we want all of our customers whether they become our clients or not, is to be protected. If a landscaping team is to come onto your property you want to ensure that the work that they are completing is not only finished the way that you want but also that everything on your property is protected by the landscaping teams insurance.  One other thing to look out for is to make sure that they company that you are hiring is qualified to do the work that you are contracting them to complete.  We specialize in many different services like grading, fertilization and weed control, irrigation, and lighting design.
Our Services
Many of these companies are excellent at one or two things. Dawson Landscape can ensure that if we don't specialize in the services that you need that we will make sure and put you in contact with the right people to get the job done.  Most of the time in circumstances where we might not be able to do the work we will help oversee and or refer you to the right person. It is in the best interest of our company to make sure that you are getting the services that you want and need for your business or home.
Here are a few things to consider if you do not choose the right company
Headaches of different companies starting the projects over and over
No coordination in the overall project design
High costs from multiple different companies
Fixing projects that were not completed correctly
Not getting what you pay for
Possibly getting something much worse than when you started
Pros of Hiring a Professional Team
By hiring the best team for the job you will save money with looking a quality over a larger scale team.  If you have not been impressed with you current landscaping team, we can help you out. By choosing our company to handle all your project decisions we can make the right choice for your lawn.
Please check the map below to see if you fall within our Landscaping Service area in Wilton
If you have ever hired the wrong contractor for your project, just remember the time and money that you spent to get that service completed.  Hiring the right person the first time is the key to moving on with your projects and getting them completed just they way that you want.  The more experienced companies typically will have your project completed on time, and just they way that you want. Dawson Landscape Group has the experience for you and has been servicing Wilton for years.
If you are ready to make the right decision to choose Dawson Landscape Group in Wilton then we are the company for you. Call us today at (205) 206-7963