Tips on taking control of your summer weeds
You need to take care of your summer weed control needs if you want to have a healthy and attractive yard. Otherwise, you will struggle to keep it looking great throughout the year. However, you might be confused as to how to keep those pesky weeds at bay.
One of the best ways that you can take care of your lawn is to hire a landscaping company to care for it. If you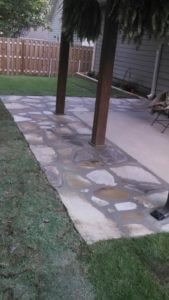 are like most homeowners today, you do not have the time and equipment to keep your yard up to par. Not only that, it eats into your already busy schedule to figure out when to perform all of the tasks associated with keeping your yard in great shape.
I'm sure you do not feel like devoting your summer days off to figuring out which species of weeds are lurking in your soil, therefore why don't you get an expert to help you out? Just as you let your accountant handle your taxes each year, you should let a landscaping team build your yard into the oasis that you wish you had time to manage.
In fact, you will find that many of the lawn care companies out there will perform your yard work on a contract. This way, you do not have to worry about calling them all of the time and figuring out when it needs to be done. Your yard will be a part of the regular schedule and appropriately maintained for the time of year. This can be such a time save especially when it comes to fertilization and weed control.
You will find summer weed control can be a part of your package if you desire. This way you will just pay out your monthly fee and come home each day to a great looking yard.
However, if you do not have the ability to afford to hire someone, you can perform some minor weed maintenance things yourself. Find out about the species that are prevalent in your community and the best means of counteracting them. This will give you the opportunity to practice your home gardening green thumb skills.
Make sure that you read the directions on all of the materials that you might be using to counteract weeds and pests in your yard. Quite often, these things can pose a level of toxicity to humans as well.
One of the best things about owning your home is being able to enjoy your yard. However, if you have a yard that is full of weeds, it can diminish the amount of enjoyment you and others receive as a result of being in the yard. Therefore, it is important that you take care of them.
Controlling the Weeds in Your Yard
Controlling the weeds in your yard is just the first part, after that you can start to figure out what changes you might want to make to the landscape, such as the addition of a water feature or planting a tree. You have the right to enjoy a beautifully landscaped yard throughout the year, and summer weed control is one of the things that will get you there.