Few tips for Landscaping your Backyard
If you are still looking at your yard as a patch of soil with some plants that need to be addressed and
maybe some clutter, you need to change your perspective. What you are looking at is a desert vista, a luscious paradise, a fairy garden, or even a mysterious path into the unknown.
Making your garden a calming and soothing escape from hectic modern life is a most rewarding hobby. The thing you need is a plan. If you feel like your garden could use a new look, consider some of these backyard landscaping ideas.
1. Perimeter of Perennials
Creating a lush hedgerow of summer blooming perennials is the perfect alternative to fences that mark property boundaries. There will be many attractive options that do an excellent job of providing an edge without making your garden look boxed in. Try some 'Coconut Lime' (echinacea) or dainty 'Foxgloves' (phlox paniculate) around the perimeter of your backyard to open up a space that might seem a bit small.
2. The Mirror Division
Backyards of any size can be split in two to give a mirror image with many exciting and attractive possibilities. A walkway or staircase can bisect the two sides of the garden with a very mysterious and soothing effect.
For best results, consider either side a mirror image of the other and look for a balance of colors, themes, and shapes. Keeping a garden with a balanced aesthetic value will be a constantly changing project that can provide years of engaging activities.
3. Family Fire's and Marshmallows
Designate a single corner of the garden to be the family fire pit. This will be a private corner where the family can gather for the traditional bonding and family tie strengthening activity of roasting marshmallows.
When looking for a spot for your fire pit, don't forget to overlook the furthest corner to give the feeling that this place is "Far and Away." The presence of this spot will also make the garden seem more spacious.
4.  A Path of Mystery
Nothing adds an air of mystery and adventure to a garden like a hidden path into the unknown, and the effects are available for the backyard of any size. This look is best achieved by a winding path whose subtle curves become suddenly lost behind shrouding shrubbery. Make sure the final destination is well hidden, even if it only leads to the garden hose.
This idea is best applied in combination with a family fireplace, or even the perennial perimeter can flatter a hidden pathway in many creative ways.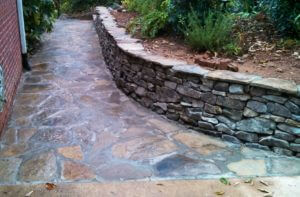 5. A Special Nook for an Afternoon Nap
A hammock strung up between two trees adds a whole new level of comfort and relaxation to your garden. Think of a shady corner that looks inviting and begin planning how this could best be accomplished. With the sun filtering through the light of the trees, the gentle rocking motion lulling you to a daydream  all you need is a lemonade and you are set for lazy Saturday afternoons
Final Thoughts on Backyard Landscaping Ideas — Every garden is unique and presents the landscaper with a single set of opportunities for creative expression. By taking the time to know your garden and what would look best, you will begin a rewarding landscaping experience that will make your home the envy of the block.
#landscaping,#landscapingBirminghamAL,#LandscapingAlabama,#gardening,#diylandscaping,#diyprojects,#landscape,#DawsonLandscapeGroup