Landscaping Birmingham AL! Call 205-206-7963

The saying "all men are created equal" may not ring so true when it comes to Landscaping companies. When you finally decide to invest time, effort, and money into reconstructing the outdoor landscape of your business or home, you should only use the services of a company that is up for the challenge. The worst thing you could do is to select the very first company that you come across. If you don't properly check the company out they could end up costing you a lot of money. The company that you select should offer an array of services. Some of the most important landscape services include lighting installations for residential and private property, performing of excavating, drainage, sod, planting, grading and irrigation. Companies should be able to offer consultation services so as to advice you on how best to utilize space, design, plants, etc. The last thing you want is a company that will only complete half the job. Call us for an estimate on your work or visit our Contact Page.
Landscaping Birmingham AL – Services:
irrigation
drainage
installation
stone walls
weed control
We are a Company That Goes "Above And Beyond"!
If you are looking for a comprehensive overhaul of the entire landscape scene of your home, you need a company that can deliver. Many companies in the market tout themselves as comprehensive Landscaping Birmingham AL companies. The truth is that many only offer normal lawn or yard maintenance services, but if you are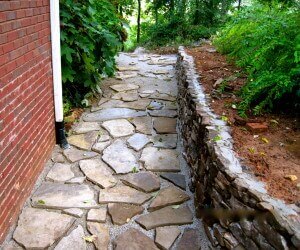 looking for a company that has a variety of services, this will ensure that every aspect of your landscape is looked at from lighting, irrigation, design, and drainage.
One-Stop-Shop For All Your Needs.
It is entirely your choice to select several small landscapers to carry out different aspects of your landscaping project. However, why would you want to do your landscaping in pieces when a company like ours can complete the project all at once.
* You will have to deal with the headache of each company you bring to work on your landscape. * There might not be cohesiveness in the overall design of the landscape.
* The cost of hiring multiple companies can become very extravagant.
* You might not get what you need.
* There is the possibility of ending up with shoddy work done on your landscape and correcting these mistakes can be a real nightmare, for time and money.
This is why we are a B

irmingham's landscape

service that can help you!
You will be able to save money and time by going to a good quality landscape company. If you are unsatisfied with a section of the Landscaping AL, you can easily contact us to come and fix the issue. Using one company to handle the entire project is the only decision you need to make. If you are interest in the services that Dawson Landscape can provide for your home in the Birmingham area please check out the service area page that shows a map and some useful information that our company can provide.
We can handle all your Birmingham AL landscaping and irrigation needs in Birmingham AL!
Consider the amount of money and time you intend to invest in your project. There is no way you can entrust such a heavy responsibility to a company that does not have the adequate experience. This will be a recipe for disaster. The more experience the company has, the better prepared they are to deal with the various issues that crop up during the project. We have years of experience and references to back up our work. We make sure that your landscape is what you want and we will perform the job right the first time.  Irrigation is just one step in the right direction for the beautiful scenery that you are trying to achieve. The next step in the process is to make sure that everything has proper fertilization and weed control. The last thing that you want to do is hire a team to come in and then continually be pulling weeds. This is something that we can take care of for your. With our expertise and experience we will make sure you achieve the landscape that you have always dreamed that you yard could achieve. Your landscape vision, preferences, and desires should never be compromised. Hiring a professional company like us is the best way to go if professionalism, quality, and innovative AL Landscaping designs are what you seek. We can help you achieve your vision for your landscape, and transform your yard into a beautiful oasis.
We are proud of the work that we have been able to provide across the Birmingham AL area and surrounding counties. Please visit our completed project page to find many of our landscaping projects.
We have been serving the Birmingham Al for years and have many pleased customers. Please refer to our Google Badge above to see more of our work portfolio for Dawson Landscape Group LLC.
birmingham's landscape
birmingham al
al landscaping
birmingham landscaping
landscape birmingham
landscaping birmingham
birmingham landscaping
landscape birmingham
landscaping birmingham
birmingham's landscape
If you would like to learn more about our landscape ideas in Birmingham you can visit our page or if you would like to learn more about our landscaping company then you can visit to learn more. We have been helping out businesses and homeowners now for the last 3 years and we would like to come out to you to show you exactly the quality and reputation that we have in landscaping Birmingham.